You are here
The Gemstone Pillow: A New EPP Pattern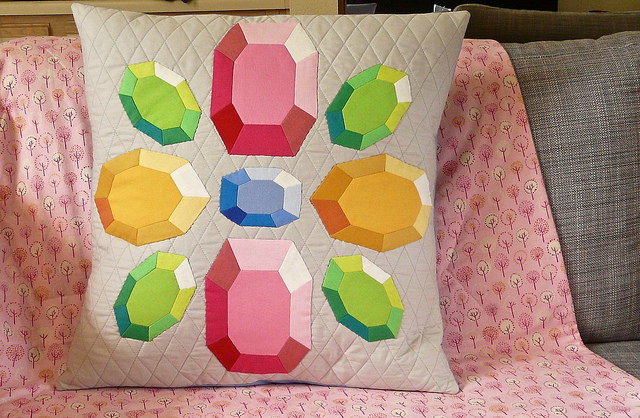 It was one of those creative kismet stories…
I was noodling in my sketchbook, playing with octagon shapes for a new English paper pieced quilt block. I drew an octagon that was a little elongated, and the thought drifted through my mind: "Huh. That looks a lot like one of those emerald-cut gemstones."
…So I kept noodling, and before long, it looked exactly like one of those emerald-cut gemstones. And I had the makings of a new EPP pattern.
The very next day (I kid you not), RJR Fabrics asked me if I'd like some of their Cotton Supreme solids to work with and blog about. And I was all: "Ummm, YES PLEASE."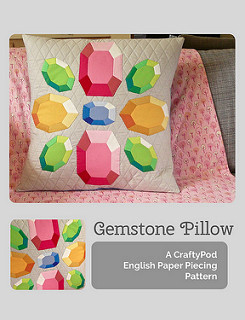 And here's the result: The Gemstone Pillow, my latest EPP-and-applique pattern.
I do love how this project turned out. If you've played with some hexies, this is a project to challenge your EPP skills a little. We're working with odd shapes here, but fear not – the pattern templates tell you everything you need to know in order to get all the pieces arranged correctly. Really, if you can thread a needle and sew a straight machine seam, you can absolutely make this pillow.
I could see this design in so many cool variations – you could make those gemstones all the same color. You could use just two colors. You could use shades of grey and make them all resemble diamonds. You could put your gemstones on a print background. You could arrange them differently. The patten gives you all the templates and techniques, and you can take off from there.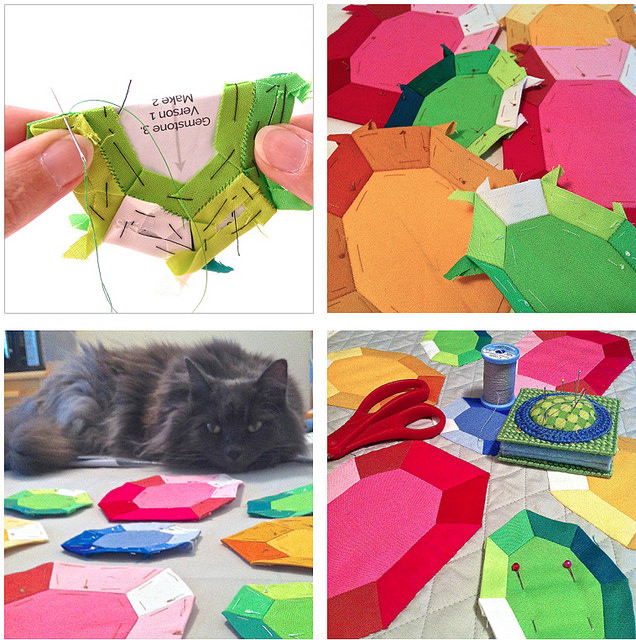 You can get all the pattern details over at my shop. And you can see what my fellow blog-hoppers have made over here.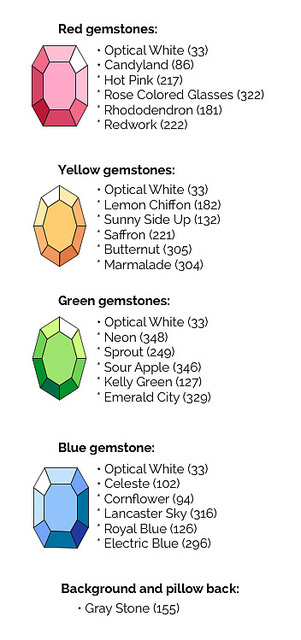 It was awesome to work with the Cotton Supreme colors here. The success of this design relies on having enough contrast between the light and dark values of each color, and RJR has so many hues, I was able to get a perfect set. At left is a list of all the colors I used.
The Cotton Supremes are lovely to work with for EPP. They're nice and soft, and hold a finger-pressed crease beautifully, which makes for easy, precise basting. I've got some scraps left over that I can't wait to use in other projects.
(As you can see, Pushkin found them nice for Laying Upon as well.)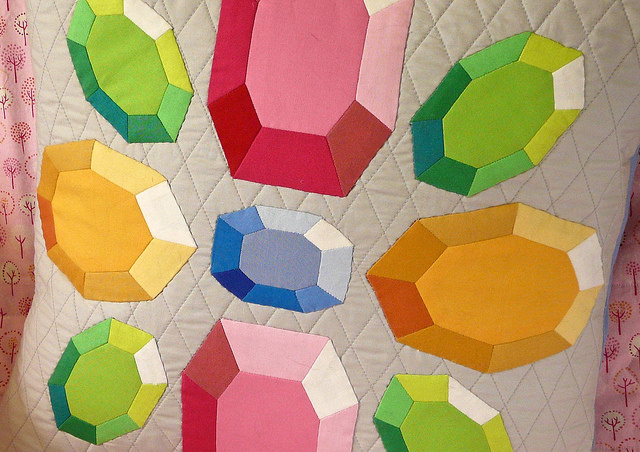 ---