You are here
How to Make Festive Chenille Flower Ornaments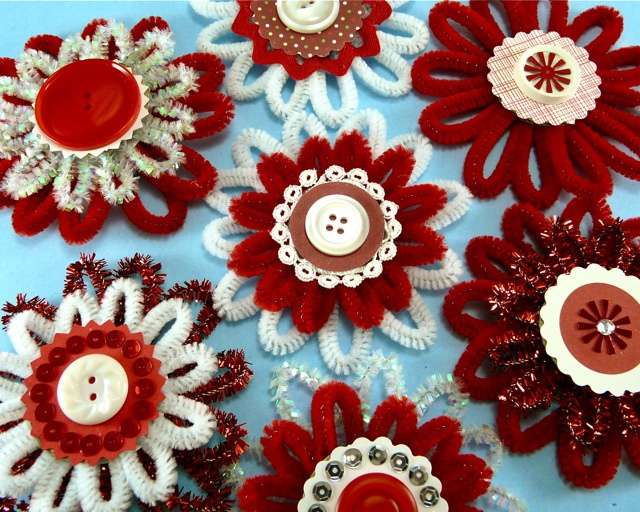 It's not like I had the time, really, for another ornament tutorial. But somehow I got all fixated on the idea of chenille stems, and this happened.
Actually, it's a really quick and easy little ornament (not counting glue-dry time). You could use these on your tree, or as garland, or gift tie-ons. You could make a whole mess of them at once, and it's a nice craft for older children, family groups, or holiday craft nights.
Anyway. First you need three 12" chenille stems. Bend them all up according to this handy little video. (Sometimes it's a lot easier to show something in motion than in still photos, you know?)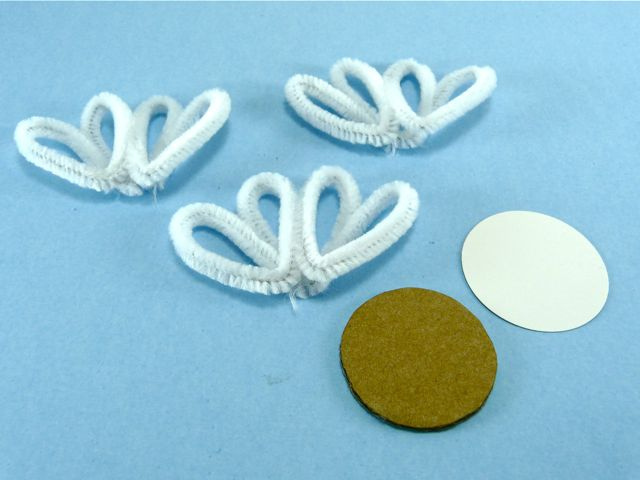 Once you have three petal units bent, then cut yourself three circles. (I know there are only two pictured here, but bear with me.)
You'll need two circles of fairly stiff cardboard. If you plan to make a two-layer flower, then you'll also need one of regular card stock. My circles here are 1 1/4" in diameter, but that's not like a law or anything.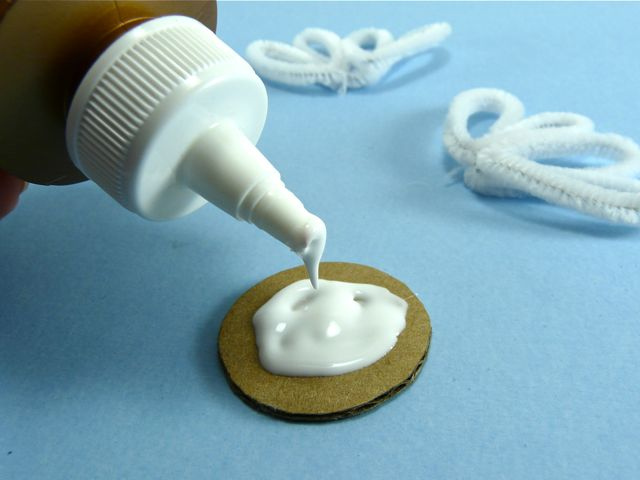 Get yourself some tacky glue, and put a nice, thick puddle in the center of one of your cardboard circles. Keep it away from the edges, but be pretty generous with it.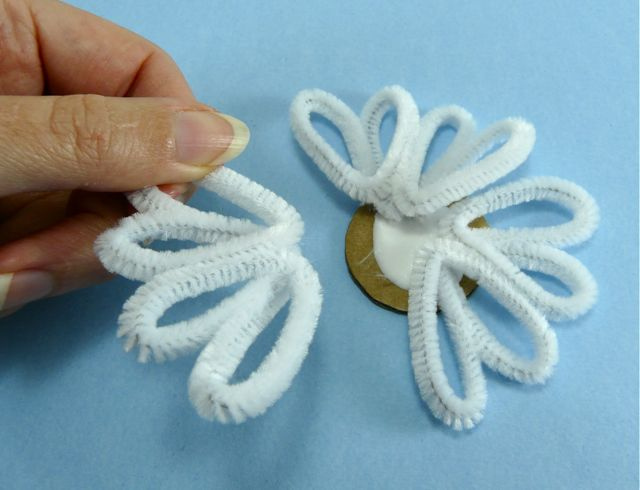 Next, place your three petal units into the glue. You'll have plenty of time to arrange them just so while the glue stays wet.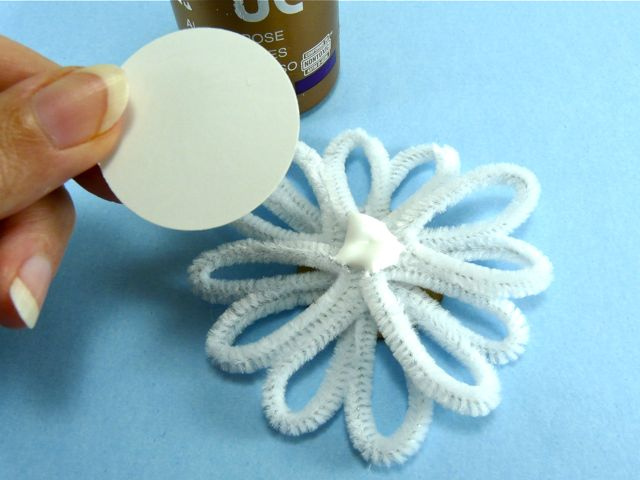 Then, put a little more glue over the center and add the card stock circle. Make sure everything's centered in relation to everything else.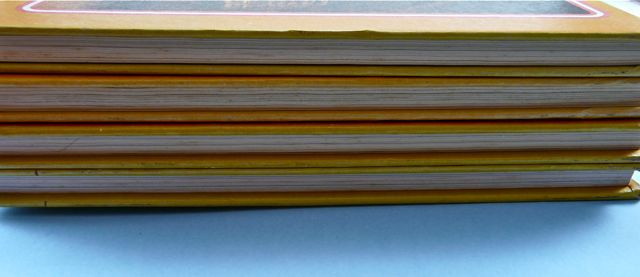 Now, this whole thing needs to go under a heavy stack of books for a while, to press the shape nice and flat. But there's one important key…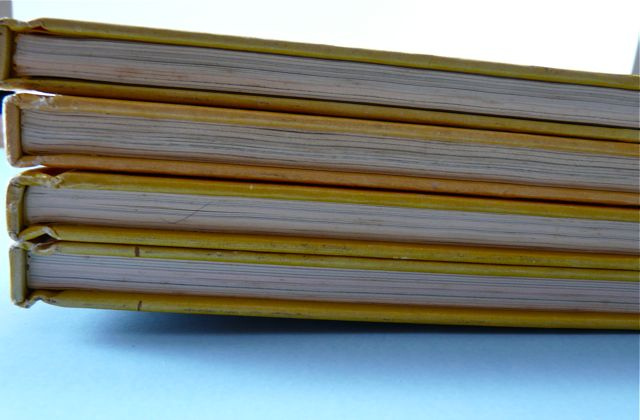 …Make sure the weight you place on your flower is balanced. If you're making lots of these ornaments at one time, this won't even be a problem - just spread all the ornaments out under the books.
If you're only making a few at a time, however, you may find that the books can't lay flat over the ornaments - the thickness of the ornaments throws the books off-kilter, like you see above. This will result in off-kilter ornaments!
(Not that this has happened to me or anything.)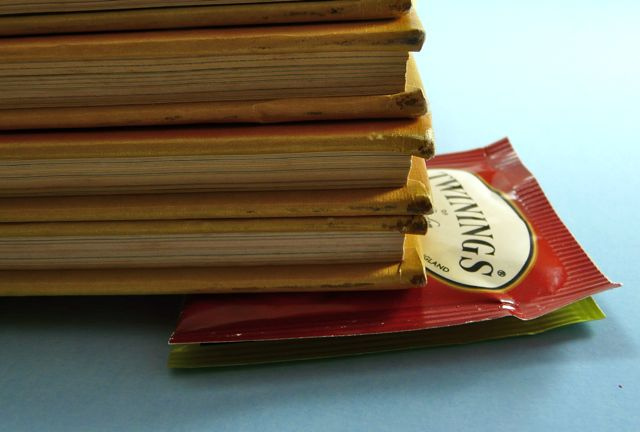 …So, just place a little something under all four corners of your books to help them stay nice and parallel to the table top. If you live in a house with thousands of tea bags, like I do, then that's a natural choice. You could also use magazines, or junk mail, or whatever you have on hand.
Leave the books in place for an hour or so while the glue sets.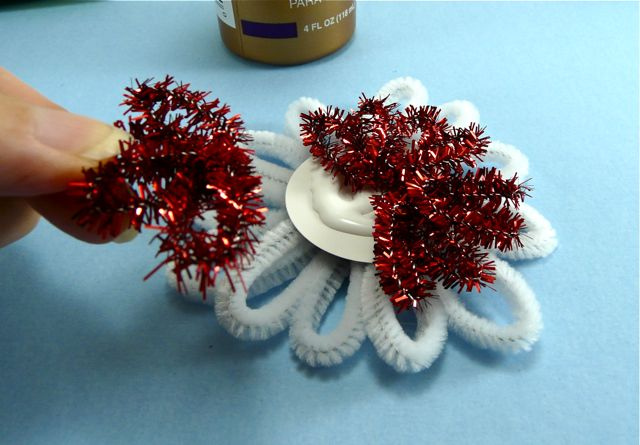 Then, remove the books and add a second layer of chenille to the top. (How do you get a smaller flower? You just lop off 1/3 to 1/4 of each chenille stem before you bend it into the petal unit.)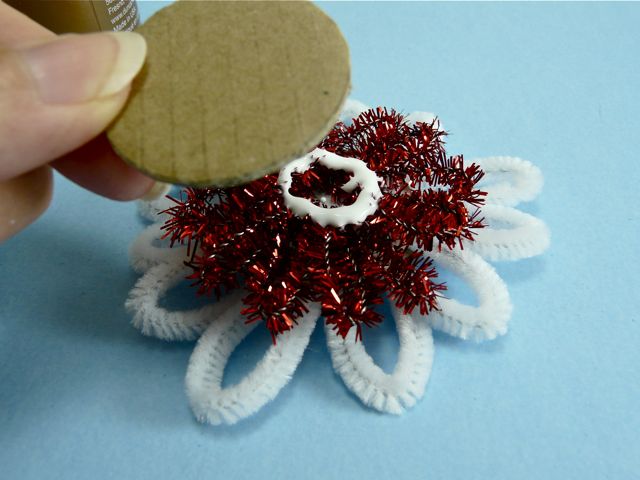 Add a little more glue to the center, and then press the other stiff cardboard circle over the top. (Again, make sure things are centered.)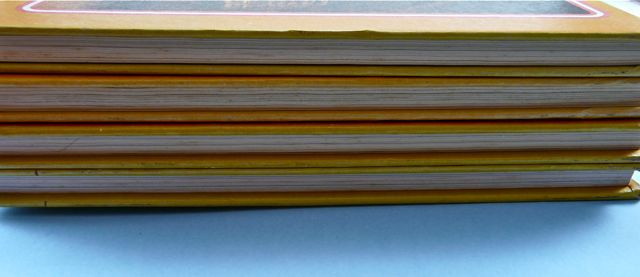 …Then it's back under those books for several hours or overnight.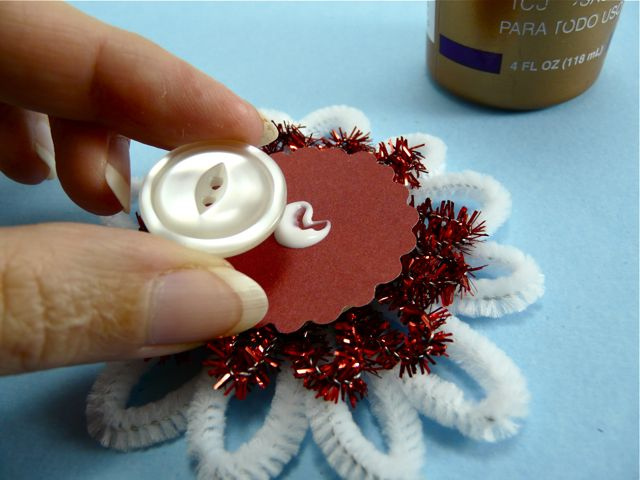 After that, you can get out all your crafty bits and bobs to decorate the center. I used some scrapbook papers, cut with punches and scissors. I also used some buttons (yay!), ric rac, and sequins. You could also use yarns, felt, pom poms - lots of possibilities!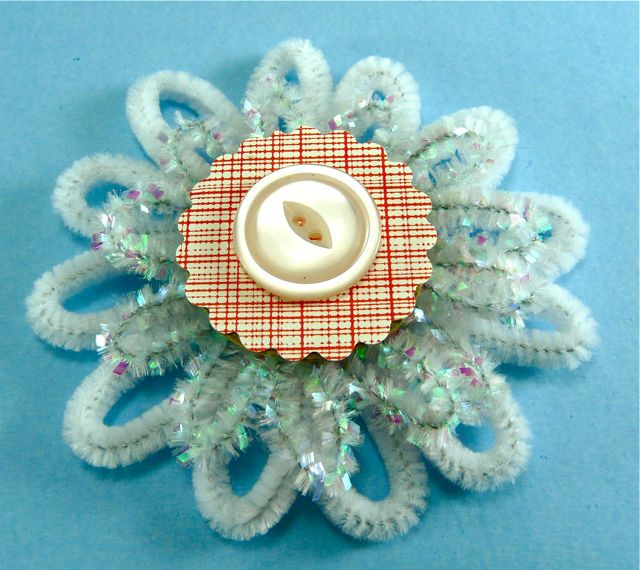 Lordy, these are fun and addictive to make!
And if you make some, I'd love it if you shared a photo in the CraftyPod Reader Projects Flickr Group!
---