You are here
How to Make a Tiny Gingerbread House Ornament (from Plastic Canvas!)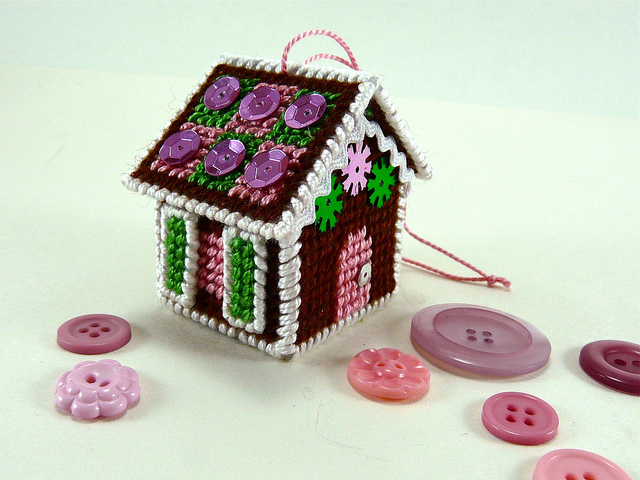 Yup, I'm pretty excited about this tutorial. Because I want you all to experience the wonder that is plastic canvas, I figured out a very simple way to make this tiny gingerbread house. It's about 2" square, and just as cute as it can be.
If you're new to plastic canvas (heh heh), you might take a gander at this past tutorial and this one to glean some basics on handling your canvas and yarn.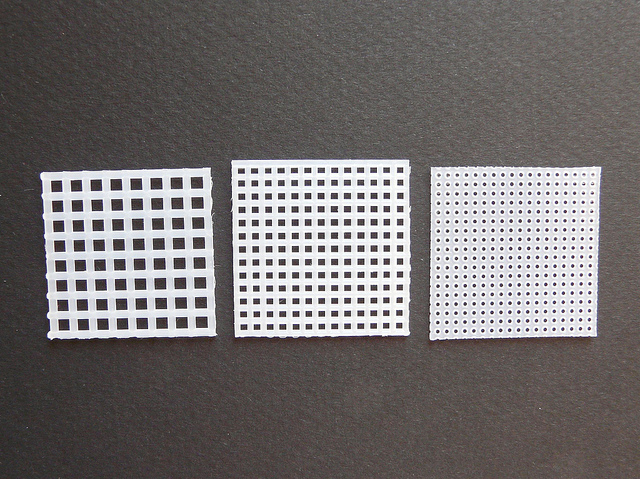 So, if you've been reading this blog for any length of time, you've likely seen this photo. For this project, I'm using 10-count plastic canvas – the stuff in the middle. You can also use 7-count, but your house will end up larger.
(If you can't find the 10-count in your local craft store, you can also get it online.)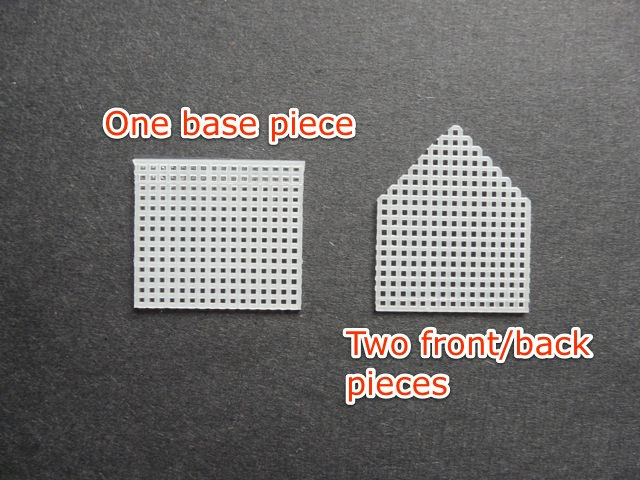 I don't want you to get too hung up on making a formal pattern here. I'll show you the pieces you need to cut, and you can decide on the final size. I usually cut my front/back piece first, and then use it as a measuring guide for the rest of my pieces.
You can draw cutting lines on your canvas with a fine-point Sharpie, or just cut freehand. One sheet of canvas will make a handful of these ornaments.
The only crucial bit is that your front/back piece needs to be an odd number of squares wide. That's so you can form a peak at the center, like you see here.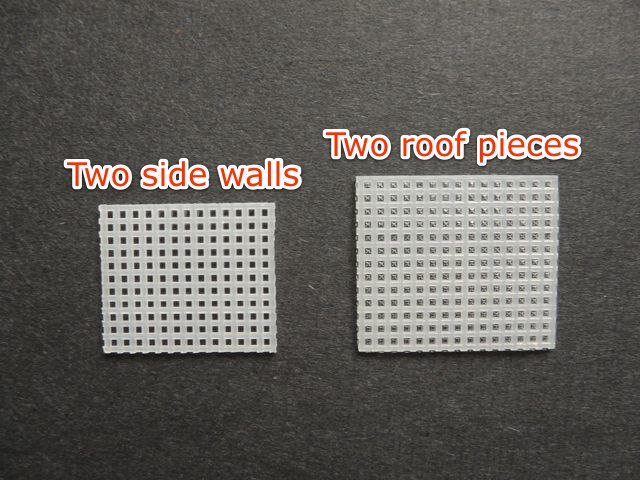 My side pieces are the same height as the front/back walls (minus the peaked roof part), and as long as I want my house to be.
For the roof, I take the length of the side wall and add two squares, so my roof hangs over a bit.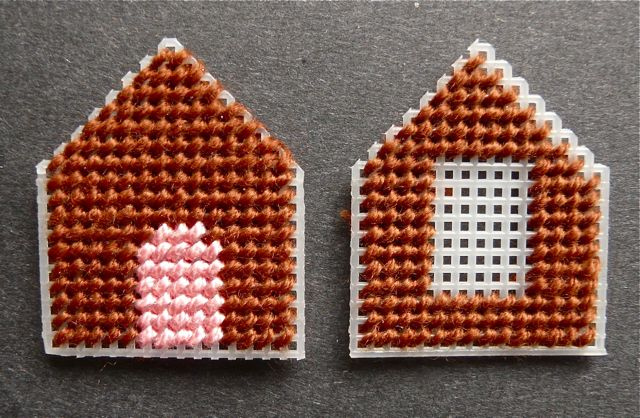 Once you have all seven pieces cut, then it's time to stitch 'em! I'm using good old Continental Stitch here, and two strands of pearl cotton embroidery floss. For this size canvas, I like a crewel embroidery needle, even though it's sharp and needlepoint needles are usually dull. This size fits through the canvas holes nicely.
I'm pretty informal about it, though – I don't work in rows. I just fill in the most important details first, and then fill in around them.
So, for the house front, I first stitched in the door where I wanted it, and then filled in the brown. (If your door is an odd number of stitches wide, you can give it a curved top like this.)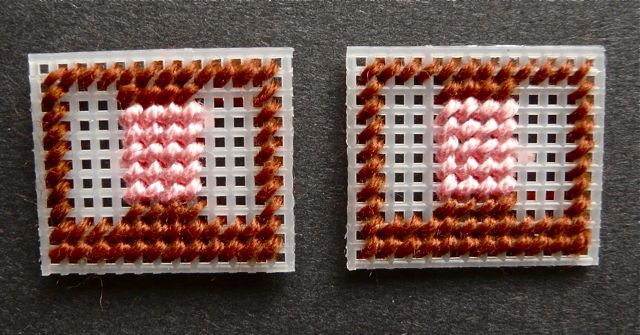 Now, on the side walls (and the back), I left some areas un-stitched. These spots are where I'll put some tiny shutters in a moment.
(Again, I stitched this informally, filling in the outline first, then figuing out where I wanted those pink windows to be, and then filling in around the shutter spaces. Longtime needlepointers may find this method rather gauche, but it works for me.)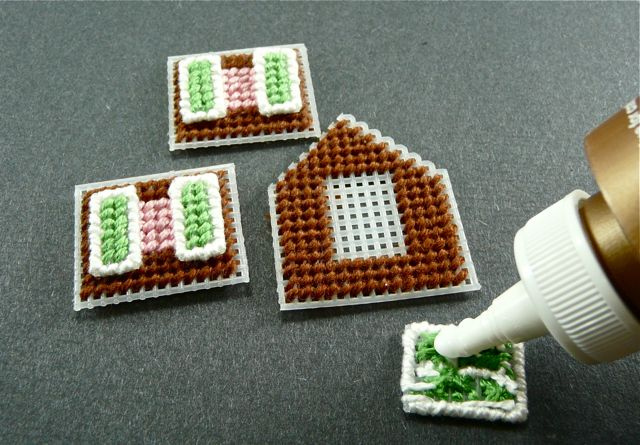 Here are my little shutters, which are just three squares wide. I stitched their centers, and then covered all the edges with overcast stitch.
You can glue them right to the base pieces with tacky glue, being careful not to let excess glue ooze through and stick your project to the table. (Not that this has happened to me or anything.) Give the glue an hour or so to dry before you proceed with the rest of the project.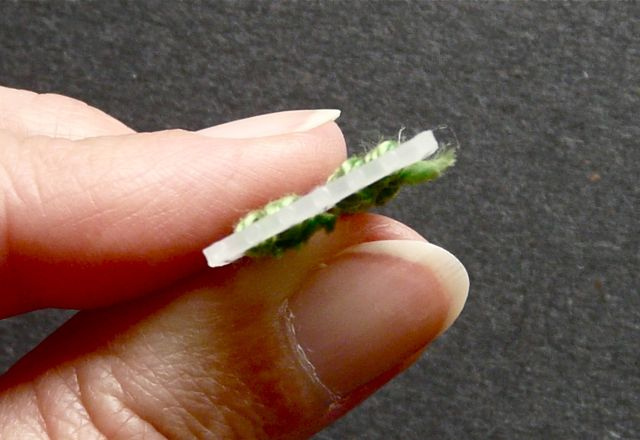 So why am I leaving un-stitched areas to glue these things to? Well, plastic canvas, once stitched, is pretty thick. By leaving the space under the shutters unstitched, I'm creating a little recessed area. That makes the whole thing nice and flat when it's glued together.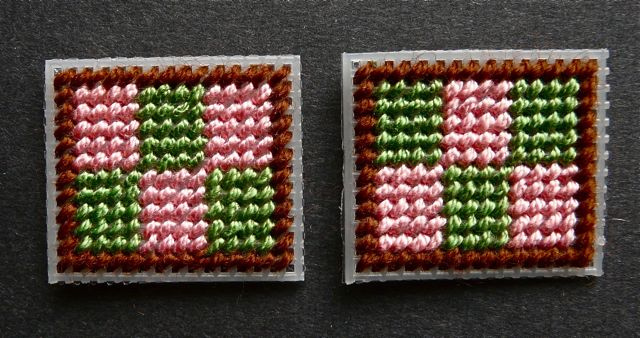 You can stitch up your roof pieces in any design you like. Set these aside for the moment, because we're going to assemble our little house first.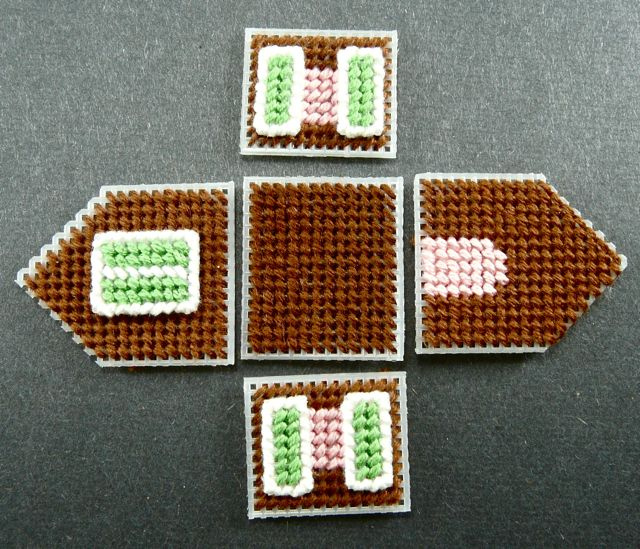 Here are all the pieces we'll be assembling first. Lay them out in this configuration, with the base in the center.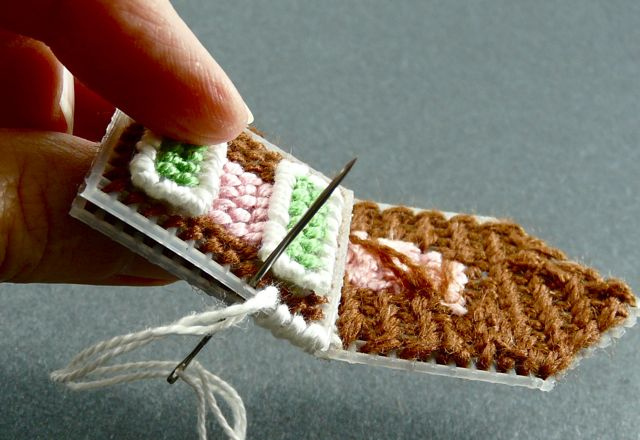 We'll be joining these pieces with a whip stitch. First, you'll sew the bottom edge of each front, back, and side piece to the base piece.
If you have a long enough strand of floss, you can do all four seams as one continuous seam that travels around the square. (Does that make sense? The next photo might help.)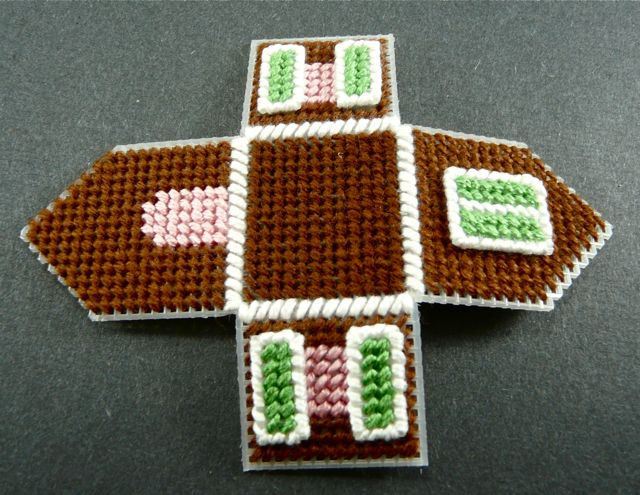 Here's what that looks like when you're done.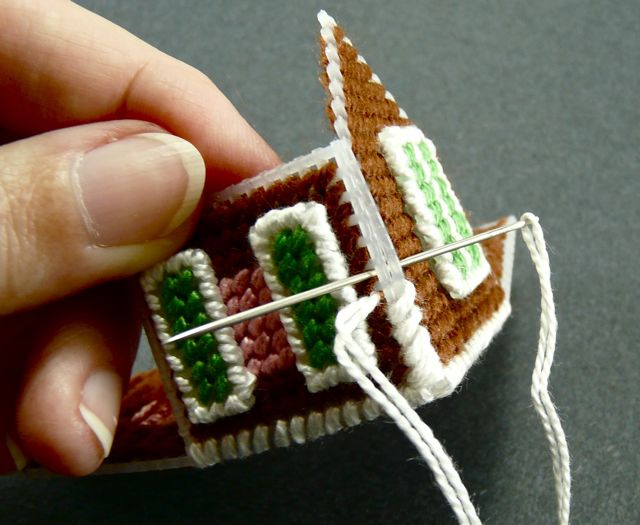 Then, you just fold up the walls and whip stitch at the four corners. Here's where things can get a little fiddly in places….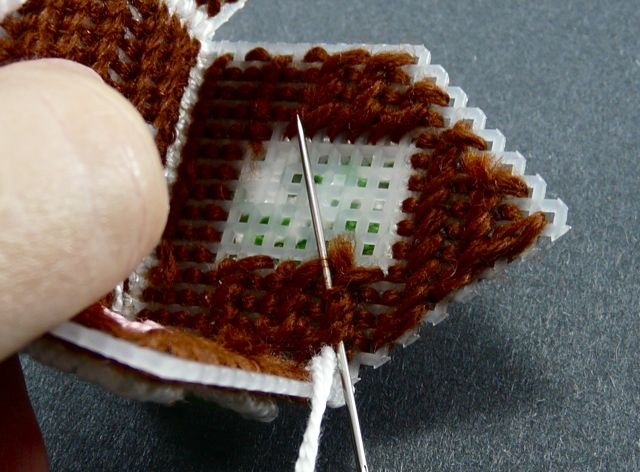 To end a seam, you'll pass your needle under the back of some nearby stitches and then cut the floss. Sometimes, manouvering through these stitches will be challenging. Two important tricks to remember:
You can always pass your needle right out through the wall of the house if you need to.
Needle-nose pliers really help push or pull the needle through tight spaces.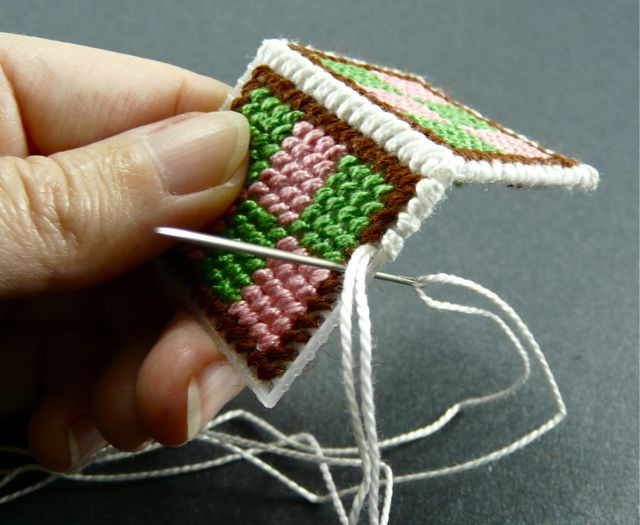 Anyway. Now we'll add the roof, which is way easier. Just whip stitch the two pieces together in the center and then finish the edges with overcast stitch.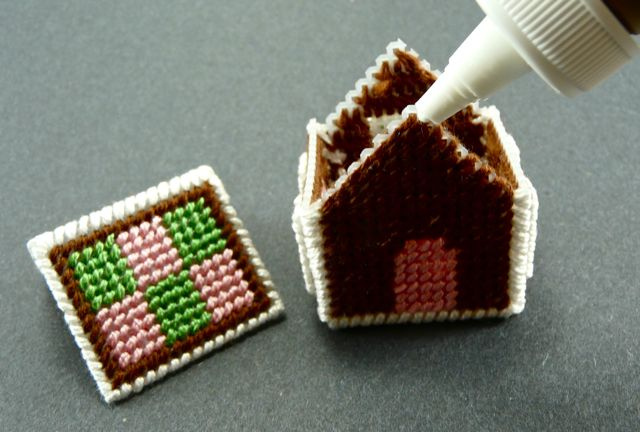 Now, bust out your tacky glue again and put a fairly generous bead along the entire roof line.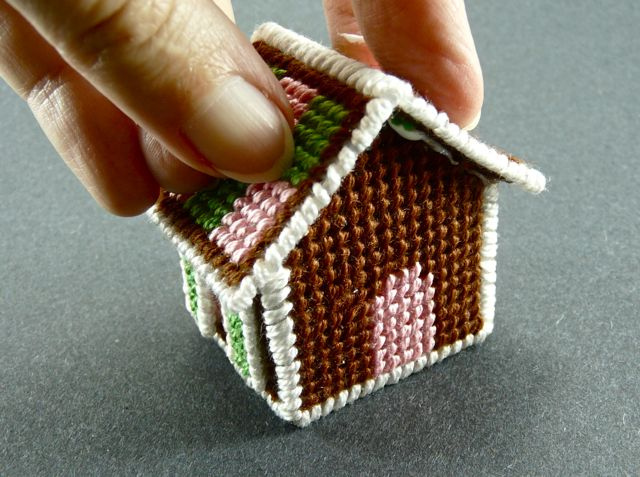 Then, press the roof in place. If any excess glue oozes out, don't worry too much - we'll cover up this join in a minute.
Press the roof down for a minute or so while the glue sets, and then leave it to dry for an hour or so.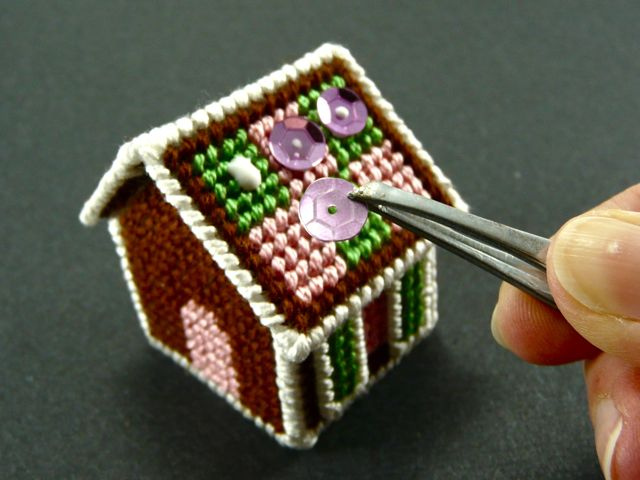 You can, of course, needlepoint all the decorations into your house, but I thought it would be much simpler to glue them on. So I dug into my Bag of Assorted Sparklies. (Tweezers make tiny sequin-handling so much easier.)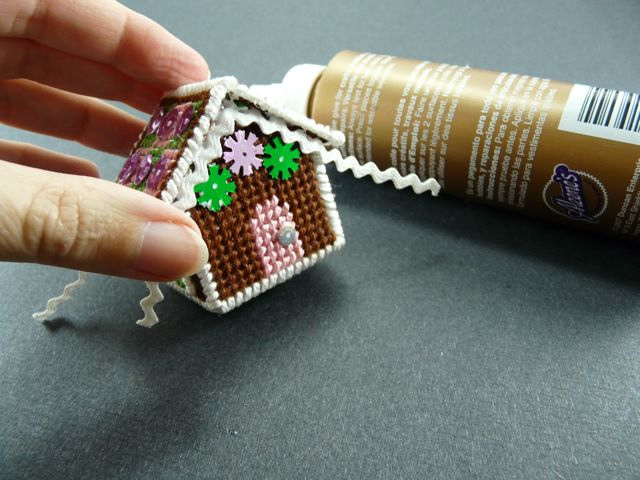 Then I grabbed out some tiny ric rac and glued a strand over the point where I glued on the roof. You only need to do this at the front and back - the sides won't show at all.
I just cut the strand a little too long, as you see here, and then glued it in place. When the glue dried, I cut away the excess.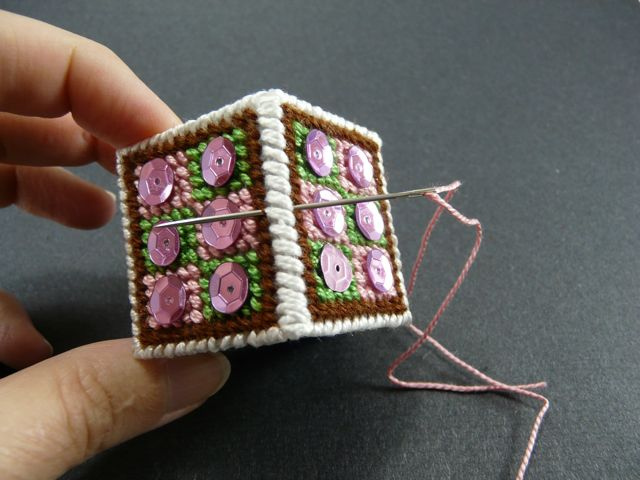 And if you want to add a hanger, just take a stitch through the peak of the roof at the center, and knot the floss in a loop.
If you make one of these, I'd love to see! Will you add it to the CraftyPod Reader Projects Flickr Group?
---